What our clients say...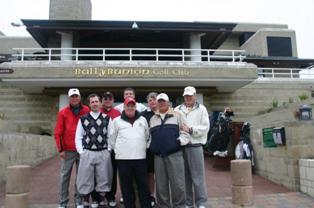 Charles Daigle & friends at Ballybunion 2007
Barry,
The trip was truly outstanding. The golf courses were out of this world. The most amazing was Old Head; while the golf was good, the scenery was breathtaking. Our entire group was in awe of this place. Every golfer has to play this course once before he dies. Overall, we found the links courses in Ireland quite difficult. Only two players shot below 80 during the week. Yours truly was one of them with a 78 at Waterville on day 2.
The hotels were just great also. Killarney Plaza was ideally situated in the middle of town. and Vaughn Lodge was just perfect in Lahinch. Not knowing what the food would be like in Ireland, I can categorically state that it was extremely good and moderately priced. We ate primarily in classic irish pubs. That's the way to go !!!!!!
We were also extremely pleased to have gone with a bus and driver for the week. The bus was first class as was the driver. We took the opportunity to hoist a few on our treks back to the hotel after golf. I would strongly recommend a bus and driver to any group planning a golf vacation to Ireland.
Barry, just want to say thanks for everything you did for us. We were extremely pleased with everything. There was not one disappointment on the trip other than some low golf scores. One of the guys on our trip has been on 12 to 15 golf trips in his life, and this was by far his best.
We are now looking at Scotland for 2009. We'll be in touch laddy. With respect to the pictures, I am the guy with the knickers in the Ballybunion picture and shaking hands at Old Head.
Again, many thanks. You delivered a great package. Let me know that you received this email.
| | |
| --- | --- |
| | |
| Ginny's hole in one at Old Head of Kinsale | Ginny & friends in Waterville |
Hi Enda,

It was a magical day even before the Hole in One! The weather was perfect, the course incredibly beautiful, great service, and Ian was a great caddy. To have my first Hole-in-One, while on vacation in Ireland and under such perfect conditions, ranks as one of my life's most special memories.

Thanks to you and your team at Irish Pro Golf Tours for a flawless vacation. The Mercedes Coach was perfect for our size group and Pat, our driver, negotiated the driving on your narrow roads expertly. The accommodations were great. I am glad we chose to stay in central locations. We lucked out arriving in Ennis on the weekend that had an annual Music Festival. All of the pubs had musicians jamming with traditional Irish music - great!

We negotiated the journey from Cork to Druids Glen with only a couple wrong turns. Your directions were VERY HELPFUL. The European Club was a beautiful course. We were lucky to play with a couple of very nice local brothers who helped us play the course as there are no caddies. Dublin residents going to the beach to enjoy the weather made for interesting traffic jams on our exit from the course.

Again, your directions were essential in getting to the Davenport Hotel in Dublin and to the airport on Tuesday. Unfortunately the Bank holiday meant that a lot of museums and city services were closed. We arrived home Tuesday night to 110 degrees.

Thanks again. We will recommend your services to any and all. Let us know if you are ever in the Phoenix area.

Mike & Ginny Kaus, AZ, USA

Enda,

I had a great trip. your directions and itinerary worked like clockwork. Well done, thank you. I loved Enniscrone, Lahinch, Carne, Doonbeg, Waterville. Met some great folks, and even took the German ambassador to Ireland for 2 euro. He's a great guy, by the way. I'll be in touch if any more thoughts come to mind...thanks again.

All best,

Peter Sacks, ID, USA

| | |
| --- | --- |
| | |
| Pierre with his friends at Aghadoe | |
Dear Enda and Barry,
Many thanks for the very professional services Irish Pro Golf Tours provide. My friends and I are VERY pleased by all. Your country is Great and beautiful. All golf courses were stunning
And a challenge! A special thanks to Kevin O'Sullivan. Our guide he so good!
Best regards,
Pierre and Joanna Shama, Lausanne, Switzerland
And all our team!


We had a wonderful time on our trip. Actually the weather was pretty good. The first nine at Ballybunion was the worst of the week. My umbrella broke by the third hole! But it quit and the back nine was fine. We had off/on rain at Old Head but mild wind so it was not bad. Waterville, Portmarnock, European Club and especially Doonbeg were beautiful days. Lahinch was cloudy and cool but no rain. It poured all night prior to our departure so that was good timing!

Driving on the left wasn't too bad and got better each day. The narrowness of the roads in the outlying areas was the biggest adjustment. I got totally lost in Dublin going to and from Portmarnock but otherwise no problems. We made it to Waterford Crystal for some nice souvenirs after playing the European Club and really enjoyed the Cliffs after playing Lahinch. All the hotels were excellent and we were treated very well every where we went.

The golf was superb. All the courses were great and very unique. I think my favourite was Lahinch. Chad's was Old Head and Waterville. I think he made 6 birdies each at Ballybunion and Doonbeg so he liked those pretty well too. The only course that gave him much problem was the front nine at Lahinch with those blind tee shots. #11 at Ballybunion is the prettiest par 4 I have ever played. So many incredible par 3's everywhere. Glad I wasn't playing the tips like Chad was into the wind on several of those! 18 at Waterville and 12 at Lahinch and Old Head were three of the par 5's that stood out. But with so many great courses in rapid succession your perspective gets skewed!

Thanks for the great trip. We will look forward to a future trip with great anticipation.

Don Wilcox, AZ, USA


Enda meets David, Gwen, Kathie & Dave in Adare Manor
The weather was awesome and we had a great time. We would recommend the trip. I know I promised you some pics, and will send them shortly.
Thanks for everything, Enda...

Dave Shellenbarger

Hello Enda,

We are back in London after our fantastic 5 day trip to Ireland. Killarney was beautiful and we all enjoyed the lovely hotel and golf courses you picked for us. I will tell my mate Jonathon that he has to work with Irish Pro Golf Tours to set up his outing in 07. The prize you sponsored we ended giving to our overall winner (Graham). It was a marvellous piece of Irish Crystal. Thanks again for that. We will be back again in 2008 or 2009 and I will be back in touch early with you so as to be able to play the best courses possible.

Thanks from us all (28)

Roberts's group, London, UK


| | |
| --- | --- |
| | |
| Enda meets Ed & the boys at Tralee | |
Enda,

I wanted to take a moment to thank you and your entire team at Irish Pro Golf Tours for a wonderful trip.
Everything went extremely well and our group down to the last man felt is was spectacular. The accommodations, Tim our fantastic driver, the courses all were phenomenal. Little Edward took home the trophy that you so graciously provided and he was tickled.

We would all be happy provide references at any time in the future, and I am quite sure you
will be seeing some of us again. If ever in the states, I would be honoured to host you at one of our fine clubs in the Philadelphia area. And by the way, it was great seeing Monty melt down, disappointed to see Phil collapse, and you were proved right in predicting Ogilvy taking home the US OPEN championship.

Cheers.

Ed McCrossen, PA, USA

Enda,

I believe I have finally landed firmly on me feet!

I would like to thank you and your staff for one of the most memorable experiences of my life!
Tim turned out to be my Irish Uncle!!! It was very comforting to know we were in the hands of someone so caring and compassionate. He truly made the trip a joy and extremely entertaining.

The golf, caddies and scenic views made the trip unforgettable. As a group, I think we all had one of the most exciting trips we could have ever imagined.

Hope you look us up if you ever get near the area.

Sincerely,

John Knowles, PA, USA



Enda -
Our golfing trip through southern Ireland last week was fantastic! The arrangements were perfect: the driving instructions, the tee times, the selection of courses, the scenic routes, and the hotels couldn't have been better. Everything, apart from the golf itself, was exceptionally easy.
Irish Pro Golf Tours did a great job. Thanks for everything. I hope to see you soon State-side.

Randy Carleton, MD, USA


Enda,

I too need to chime in and reinforce that the last week spent in Ireland was the very best vacation that I have taken. The attention to every last detail, Tim's navigation skills and customer service demeanour, the beautiful countryside, the people of Ireland and of course the unbelievable golf courses. This is truly a lifetime memory and I am sure that I will be back to visit in the not too distant future.

Best Regards,

Bruce Skoletsky, PA, USA

Enda,

This was by far the best vacation I have ever been on. Accommodations were fantastic, was a pleasure having Tim as our driver and playing extreme golf at Old Head was the thrill of a lifetime.

Thanks for everything!

Regards,

Gary Skoletsky, PA, USA

Enda

I enjoyed meeting Barry and you. You were kind to make the extra effort, especially on a Friday evening.

We all had a wonderful time, the trip exceeded our expectations. Thanks again for everything. I will be sure to recommend Irish Pro Golf Tours to my friends.

Thanks again.

Best regards,

Elliott Harrigan, PA, USA

Can't begin to tell you what a great time we had and how easy you made everything for us. If you just could have fixed some golf swings... Great article on Irish Pro Golf Tours in the New York Times yesterday. Almost ready to sign up for next trip. Thanks for everything.

Park Smith, PA, USA

Hi Enda and Barry,

Our golf vacation in Ireland was a huge success! The golf, accommodations, touring, coach and driver, the beer and the weather (!) were first class all the way. It was the most enjoyable vacation we have been on and it seems like Irish Pro Golf Tours did all the work. I don't know what you could have done to make the trip better and Ginny finishing with a hole in one at Old Head was the icing on the cake. It was a pleasure to meet you and work with you. We will highly recommend Irish Pro Golf Tours to anyone interested in visiting Ireland.

Thank you.

Connie and Jim Dolan, AZ, USA

Hello Enda,
Nothing but praises to pass along to you regarding the Krakowski group!!! Spoke to Mr. K. yesterday and he said there was not one thing that was not right. (including the weather) Spoke well of all accommodations and mentioned receiving a head cover from you. Very nice touch. Thanks for all your work. Have passed along all the praise to others in our offices. Hope we can do it again soon.

Laurelie - Pro Travel Inc.

Barry-

Just wanted to extend a thank you to you and your staff for making the arrangements for my trip with my father earlier this month. We had a great time and all of your arrangements were perfect. All we have to remember to do next time is to leave plenty of time to drive on your lovely Irish roads. What an experience that was!

All in all it was a wonderful trip and we thank you for taking such good care of us.

John McMahon, IL, USA

Dear Enda:

Thanks for a wonderful time. Everybody enjoyed the trip. Every think was excellent. George, the driver, really enhanced the pleasure. We were in Ballybunion during the musical festival which was an extra feature.

We only had severe rain at Adare. A little Irish mist at other times made my friends get the feeling of Ireland.

I have already given your folder out and recommended you & Irish Pro Golf Tours. Hope to do it again in a couple years. I will be in Touch. Thanks again.

Dr. Kenneth Cavanaugh, CO, USA

| | |
| --- | --- |
| | |
| Dick, Barbara, Phill & Joan arrive in Ireland | |
Enda,

Well, another wonderful trip is over and we are safely back in Florida. Everyone had a great time, and Robby was an outstanding driver (nearly as good as me!). By the way, Sandy left her favourite pair of blue jeans in the closet at Bushmills. If you could ring them up and ask them to post them to us we would be most appreciative. Thanks again for everything, especially our not losing this time.

Phill Ashkettle, FL, USA

PS. I shot a 37 on the back nine at Portrush on Sunday, matching the performance of one of my golfing heroes on that part of the course!

Barry,

I wanted to let you know that we had a great trip in Ireland. The golf and weather were fantastic and the 3 courses, Ballybunion, Lahinch and Waterville were a terrific treat to play. Its hard to imagine having better conditions to have played in.
We all thought the Crown Jewel was Waterville! What a fantastic place and terrific course. I want to play there again and again. We heard that Mark O'Meara played there the same day we were there.
Our next trip to Ireland will be booked through Irish Pro Golf Tours. You did a great job for us!. Thanks for getting us the Ford Wagon with an Automatic. I would have died with a standard. Thanks again.

Tim Hannan, CT, USA

| | |
| --- | --- |
| | |
| Jim, Eloise, Sandy & Dave fresh of the plane | |
Enda,

I'm a bit tardy in thanking you and Barry for our great trip to Northern Ireland. As always, you guys go beyond what is expected. I talked to Karl Kublitz at Grey Oaks and told him how well you guys deliver your tours. He said he has heard that from other people as well (Dave Reed). Good luck and let me know if I can help.

Dave Huber, FL, USA

Hello Enda,

We made it back to Naples just fine, although after a thorough frisking at the Belfast airport.

Jim and I just wanted to drop you and Barry a note to tell you how very much we enjoyed our trip to Ireland. You did a terrific job - everything was perfect. The golf was wonderful and we were treated so well every where that we went. Even the weather cooperated beautifully after the first two days!

And, most importantly, we wanted to tell you how absolutely wonderful Robbie was. He made the trip! He truly went out of his way to be sure that we all had a very special Ireland experience. You are very fortunate to have him working with your clients. We cannot say enough good things about him. When we return to Ireland for another visit, we will most certainly request that Robbie join our group once again. He is a true asset to Irish Pro Golf Tours!

Best regards,

Joan and Jim Stewart, FL, USA

Hello Enda,

Just wanted to report that we returned on Sunday without mishap or delay after a very enjoyable vacation in Ireland. Once again we enjoyed very pleasant weather on both the east and west coasts.

I found the golf to be a bit more difficult than I expected, especially Lahinch & Ballybunion. On both courses you really had to be accurate and also deal with the wind. Probably the most enjoyable course was the European Club. It was very scenic and playable. The owners went out of their way to make it an enjoyable round. Unfortunately we did not get to play Portmarnock. My right knee was swollen and sore so I could not play. Dick & Ron decided not to play.

Our transportation was great. Our driver, David Geaney, was a very good driver, very smart with a great sense of humour. We all enjoyed being with David and he added a lot to the enjoyment of our trip.

Our plane transportation was on Airbus but we found it very cramped and uncomfortable going to Ireland, We were on the same plane coming back. We sat in about the same location but found we had more room and it was much more comfortable.
Finally, I want to say we were very happy with the arrangements and will certainly recommend Irish Pro Golf Tours to others in the future.

Thanks again for your services. I enjoyed working with you over the past year.
Sincerely,
Joe Weigand, NYC, USA

Enda,
We just returned from our Irish Pro Golf Tours and the truth is that no one wanted to leave. We are indebted to you for arranging our tour, which was of the highest quality. We cannot give enough praise to Catherine Treacy and her staff @ the Killarney Lodge. They were all very friendly and helpful. On the day it rained she met us and offered to dry our wet clothing, which she proceeded to do. Each morning after breakfast she went over our directions to the course we were travelling to that day. The Killarney Lodge gave us a great deal of comfort during our stay.

The golf courses were second to none. No one should miss Old Head. The day we played there our caddie said that weather wise it was the best day of the year. It's truly a remarkable place.

Enda, I think we will want to come back to Ireland in the future and when we do we will be contacting you and Irish Pro Golf Tours. Thanks for the memories!

Sincerely,
Tony Matz, PA, USA

PS The head covers were a nice touch. It won't leave my driver except when hitting the ball.

Enda

Many thanks…the trip could not have worked out better. Your choice of the Portrush Valley course was excellent…We look forward to another outing with Irish Pro Golf Tours.

John Boone, NC, USA

Marie,

Just want to let you know we had a great trip. David our driver was wonderful, very professional and accommodating. Our wives just loved him. All arrangements were just as you told us. You have a beautifully country that we thoroughly enjoyed. I hope we will have an opportunity to visit in the future and would not hesitate to use Irish Pro Golf Tours again.
John Skiba, MO, USA

Barry,
Just a short note to gain thank you for helping arrange a wonderful trip of Irish Golf!! We had a wonderful time and especially enjoyed the most hospitable Irish people. Our driver Kon(Spelling??) was wonderful and most helpful.
I want to be sure to pass along our group's sincerest thanks to our driver for the week, Con. He did an exceptional job of not only driving us, but also giving very good advise as to eating, drinking where to go, what to do etc. He took four(4) American golfers under his wing and helped make sure we had a wonderful time. He is an asset certainly worth protecting!!!
We obviously got a break on the weather but still experienced the varieties of Irish weather changes. I have already recommended you to some others thinking about the trip and will continue to do so. I hope if you ever get to our part of the US you will let us know so we can return the golfing favour.

Gray Kimel, NC, USA


Barry,

Our trip went very smoothly and we enjoyed every minute. Sorry we didn't have more time to spend with you considering the long trip you made to meet us at the Shannon airport.

Our bus driver, David, was great. He made the trip even more enjoyable. The ladies, in particular, enjoyed his sense of humour. We highly recommend him for any of your future clients.

The weather was almost perfect. The only problems we had were dense fog for 9 holes at Old Head and strong winds at Doonbeg. Otherwise, the days were very enjoyable and a big relief from the hot, humid weather here in Alabama.

Our group had such a good time we're already thinking of a trip to Scotland. Any recommendations for making that trip a success?

Thank you again for arranging our accommodations, etc. We couldn't be happier. We very much enjoyed Kinsale and Killarney. Lahinch was fine, but not much to do for the ladies in the way of shopping, etc. We wouldn't have missed the Cliffs of Moher though. David also turned us on to the restaurant called Cornerstone in Lahinch. We thought they had the best food of any restaurant on the trip.

If any of our friends or relatives want to make a trip to Ireland, we'll be sure to recommend you.

Best Regards,

Brad C. Rosenwald, AL, USA

| | |
| --- | --- |
| | |
| On the first tee at Royal County Down | |
Enda,
The trip exceeded our expectations and Chris and I were delighted beyond our expectations. We would recommend Irish Pro Golf Tours to any of our friends and family in the future.

Thanks so much!
Joe Nassif, MO, USA

Enda, it was great to meet you at Royal County Down. I am sorry we missed you in Adare.

I wanted to write and thank you for helping us arrange our wonderful trip. The golf was great, the weather was wonderful and the food was excellent. By separate message, I have given our thoughts on Pat Hurley. He was terrific.

Thanks,

Joe Conron, MO, USA



Enda,
Hope all is well. The guys truly enjoyed the trip and I am sure you will get many referrals as a result of the great job you and Barry did on our trip once again.
Once we start planning for next year, I will let you know.
Stay well and in touch.
Phill Ashkettle - FL, USA

Enda & Barry,

What a spectacular trip you guys arranged for us in Ireland.

As I arrived in Shannon somewhat disgruntled with my clubs and baggage having missed my flight from Chicago, I had no idea how accommodating two Irish lads could be.

Kid glove treatment took on a new meaning when you guys fixed me up with the perfect set of clubs with rain gear and we took on mighty Ballybunion with frightening winds and rain.

We had the pleasure of experiencing the perfect Irish golf vacation; the daunting weather at Ballybunion; the calm tranquillity on our last day at Old Head; and four superb courses in between.

Great accommodations, our private coach and tour guide, the scenic helicopter transfer and your wonderful hospitality made our visit the trip of a lifetime.

Thanks for the memories.



Ron Emery - Jackson, MS

Enda my friend,
We had the best week of our lives. So much so we are planning the same trip in September of 2007.
We would consider no other company and we will also be requesting Mr George Desmond (tour driver extraordinaire).
Thanks from all of us.
Barry Ling - PEI, CANADA



Enda:
I am feeling more like I am in the "land of the living" today. It always takes a couple of days to get your body clock back on track.

We had a wonderful time in Ireland. I can honestly say that I have never seen a more beautiful country. It is truly the Emerald Isle. The golf courses were spectacular – everything and more than what we anticipated. The people were all so friendly and the accommodations were great. We are sorry that we had to miss the experience of Dromoland Castle, however, as you have pointed out, this will give us a reason for returning.
What course stood out from all the rest? Our answer would be "Old Head at Kinsale". This course is so magnificent. We hired a senior caddy while we were there and he was fantastic – Gerry was his name. He made the experience even more memorable.
All of the courses were wonderful – each had it's own unique feature.
We loved the way that you had arranged the courses and tee times so that when we were finished playing a course, we still had time to do some sightseeing.
We did the Ring of Kerry after playing Waterville (having driven half of it to get to the course, we drove the other way home) and we did the Dingle Peninsula after playing Dooks. We even did the pass – what an experience that was, and the views were well worth the drive to the top.

I have also been talking to the Devil's Pulpit this morning, and have said that anyone wanting to go to Ireland should go through you people.

You did a great job in arranging everything so that we could have such a wonderful holiday.
The maps that you had provided where invaluable and the accommodations were great. We even learned to drive on the left-hand side of the road without having any accidents. Thank you so much!!!!!!

Barbara & Larry Karasiuk - CANADA